Company Discipline At Experienced Girlfriends - punishedbrats - Full HD/MP4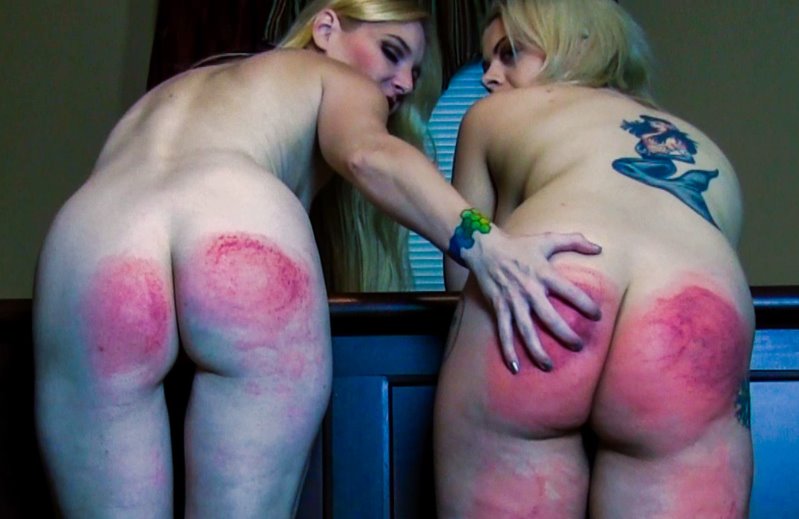 Model:
Audrey, David Pierson, Chloe Noir, Nadia White, Delirious Hunter
Position:
Implement:
Studio:
punishedbrats
Format:
mp4 (zip)
Duration:
00:53:32
Resolution:
1920x1080
Size:
1,3 GB
Description:
1. Money Issues: Audrey's clients did not pay her the full amount agreed upon, she had words with him. This is strictly forbidden as Mr Pierson takes care of all such disputes. Audrey makes a very good living but as part of her contract she must submit to company discipline. Audrey knew what was coming when Mr. Pierson showed up. She was told to turn around and put her hands on the bed. Her panties were lowered, and a hard bare bottom spanking was administered.
As Audrey's painful spanking proceeded, she was informed by Mr. Pierson that her client was watching her punishment. This made her feel even more humiliated. At the time she didn't realize that having him in a room was an ideal way of collecting the money he owed Audrey but also collect a 50% penalty for not paying her.
To conclude her punishment, Audrey was informed that she was to be spanked very hard for one or two minutes. Audrey inquired, "that wasn't hard?" Mr Pierson noted that what was to come will be much harder.
Audrey screamed as spank after hard spank fell. Audrey then agreed to leave all money disputes to Mr. Pierson.
2. The Experienced and Inexperienced Girlfriend: In addition to being an acclaimed writer, the Delirious Hunter also worked for an out-call company known as 'The Experienced Girlfriend.'
The money was great, and the experience often added material for her writing. That night, she and Audrey were to have performed a girl on girl show for a special client, but Audrey cancelled at the last minute. Not sure what to do, Nadia picked up on her lover's stress and asked if she could come.
At first the Hunter noted it was out of the question, but when pushed she agreed to do the session with Nadia. As the two performed for their client, he enjoyed the show a bit too much and achieved peak arousal long before expected.
Once he handed over the money to the Delirious Hunter, she quickly became aware that he was over $1000.00 short. He explained that he had inadvertently taken out the incorrect amount of money from his account. Not satisfied with this answer, Nadia pulled out aa sharp object from a place no one was sure of and threatened the client.
The Delirious Hunter quickly disarmed her lover knowing full well that there would be a price to pay for Nadia's misbehavior. When they arrived home, Mr. Pierson was already present.
He instructed both girls to disrobe and bend over the bed. In this position, David went to work upon their naked bottoms with a
crop
provided by the Delirious Hunter. David cropped the girls upon their bottoms and legs.
Then, her spread their bottoms and cropped them upon their assholes. Then, David instructed them to turn around and accept the
crop
to their breasts and vaginas.
This ended the company's punishment, but now came the spanking that the client would get to watch. The first intense spanking would be given to the Delirious Hunter .
The woman known as Delirious Hunter felt her heart sink as she was informed that she was to be spanked by Mr. Pierson. While attempting to maintain a calm exterior, she knew that the next several minutes contained nothing but pain and humiliation for her, knowing full well that her spanking and humiliation was being watched by the client upon whom her lover pulled a sharp object from and orifice yet to be determined.
She knew that both she and Nadia were in big trouble once her passionate little lover pulled that object. The Delirious Hunter was made to lean over the bottom post of the bed, her bottom thrust out asking to be punished.
She had hoped to take her punishment with as much dignity as possible, but once David landed the first full blow with a
leather paddle
used for more severe situations, it wasn't long before even one such as she was screaming and pleading as she felt each mark of the
paddle
upon her bottom.
She had hoped for some mercy as David had punished both she and Nadia by a cropping of all of their most private parts but this was a serious matter for the company.
When informed that her punishment would end with twenty hard blows from the
paddle
, she turned as if to ask for mercy, but seeing this, David replied "Darling there was weapon play."
Each of the next twenty blows of the
paddle
felt as if she was receiving a thousand bee stings with each one.
After her punishment, the naked and well punished Hunter was made to show her marked bottom to the camera and to the client to whom Nadia threatened with a weapon. In her nakedness she was made to turn around and apologize to the client.
She was then instructed to send Nadia in for punishment to which Delirious Hunter replied "With Pleasure!"
Knowing she faced a hard punishment, Nadia walked in with much trepidation as she had watched her friend's severe punishment. She soon realized that her fears were well founded. As soon as David landed the first smack of the weighted leather paddled, Nadia felt like a lightning bolt had gone through her.
She was spanked even harder than her lover and was well marked from her thighs to her bottom. Both girls were then made to bed over the bed displaying their sore, marked bottoms.
After about a minute, Delirious Hunter reached around and touched her friend's sore bottom. As the thrill seeker she is, the writer found the painful experience exciting in so many ways.
She and Nadia found the pain and fear they had suffered exhilarating. The Delirious Hunter embraced Nadia and took her to the floor were they had mad and passionate sex knowing full well that they were being observed.
3. Discipline At Experienced Girlfriend, Inc: Audrey had once again allowed her temper to get the best of her when a client had stiffed her a thousand dollars on her fee instead of just giving Mr. Pierson a call.
He had never failed to retrieve the money owed to any of the women working for the company, and often requires that the violator of the deal pay more. On this day, Audrey knew she was in for some company discipline and even left the door open for Mr. Pierson.
Unexpectedly, instead of Mr. Pierson, in walked Chloe Noir. Chloe was known to fill in for David now and then and word had it she possessed an unusual style of spanking. Audrey attempted to talk her way out of this, somewhat fearful of the unknown quality that is Miss Noir.
Audrey reminded her that she was once one of the girls, but Chloe was unmoved. She instructed Audrey to remove her jacket, exposing her bare breasts. She then was
bent over
the bottom of the bed for discipline.
She immediately found out why Chloe's style was so feared. One never knew which
hand
she wound use to strike next. After several spanks upon the seat of her panties, they were suddenly lowered and now the discipline would begin in full.
Spanking was a way the workers at the company chose to dissuade anyone from getting into a disagreement with a client instead of leaving it to management to deal with all pecuniary matters. As Audrey was a person with something of a temper, she has engaged in a few conflicts with clients and was spanked for it.
Until today, the task of spanking her always fell to Mr. Pierson, who spanks hard but she also feels safe with him. Today her discipline is being carried out by Chloe who employs a very different style of spanking. It was all Audrey could do to maintain her control as Chloe provided the company discipline. Once Audrey's bottom was red and sore, her disciplinarian dug her nails into her tender flesh, causing her to cry out. At the conclusion of her spanking, Audrey was informed that her spanking was broadcast and she was made to apologize to the client she offended fully exposed, and then made to remain in position with her red bottom on display.