Punished On Company Time - Bent Over By The Boss - worstbehaviorproductions - Full HD/MP4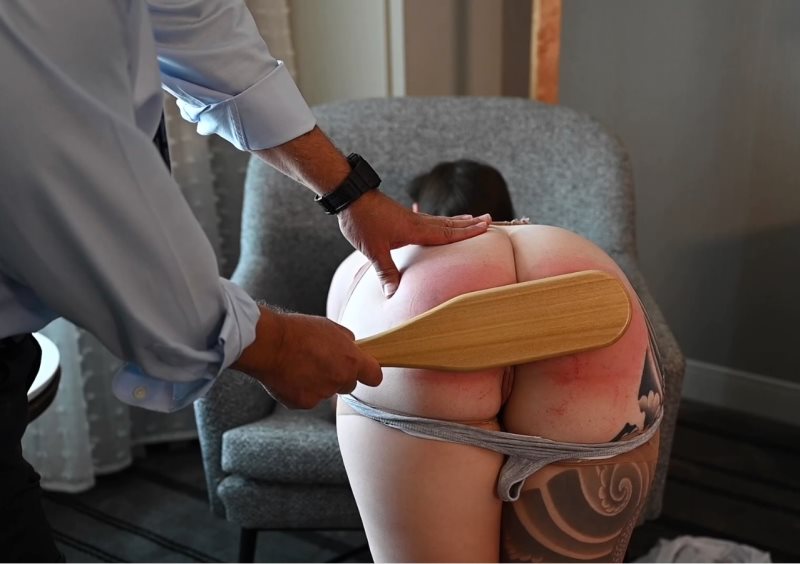 Model:
Dylan Rollins
Position:
Implement:
Studio:
worstbehaviorproductions
Format:
mp4 (zip)
Duration:
00:19:38
Resolution:
1920x1080
Size:
906,4 MB
Description:
Minx often slacks off when her boss is away from the office. The phone has been ringing non stop and a handful of customer complaints have mad their way to the boss. Catching her in the break room, Minx is in for a stern scolding before she is bend over the chair for much needed discipline. The lash of the martinet makes contact with her skin tight skirt, heavy leather tails biting into her voluptuous backside. Scolding as the lashes fall, Minx keeps her hands on the chair, crying out as she is disciplined. Picking up a thick strap, the Boss threatens to open the door to the break room so her co-workers can witness her humiliating treatment. The wood
paddle
cracks across the thin fabric of her skirt, the pain buckling her knees as she struggles to take her swats. Pulling her skirt up to check his progress, the paddling continues on her swollen red bottom visible over skin tight pantyhose. Instructed to remove her white blouse, revealing her lack of bra, her shapely breasts are exposed. Minx obediently takes a stressful and painful position
on all fours
over the ottoman and chair. The strap whistles through the air, cracking across her upturned bottom, crying out with each powerful delivery. Ripping through the crotch of thin nylon pantyhose, her swollen globes are exposed for further punishment with the strap. Soon her panties are ripped down for fully bare humiliating discipline. The strap, the martinet, and
paddle
bite into her exposed flesh, Minx is blistered and sorry, vowing to be a good employee from now on.