A Parental Paddling At School! - Universal Spanking and Punishments - Full HD/MP4
Exclusive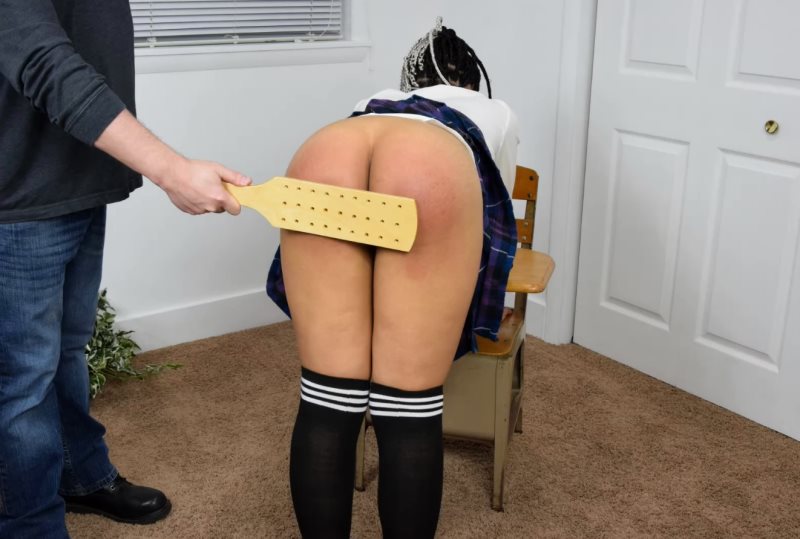 Model:
Jayda Blayze
Position:
Implement:
Studio:
Universal Spanking and Punishments
Format:
mp4
Duration:
00:22:48
Resolution:
1920x1080
Size:
1,2 GB
Description:
In "Spanked in Her Bedroom", Jayda Blayze had to go over her step-dad's knee for a stern spanking after allowing a boy to into her room, and who knows what happened that afternoon? Now, "A Parental Paddling at School" tells the story of what happened later that week when Jayda's step-dad received a notification from the high school that she'd earned her third detention that semester!
Jayda had a rather forgiving teacher (Mr. Wadsworth), however the girl was an ongoing problem in the classroom so she found herself
sitting
in the 'naughty girl' desk right at the front of the classroom. As Jayda was writing sentences that afternoon her teacher left the room, though in a surprising twist her step-dad was the person that would walk back through those classroom doors! He noticed that Jayda was drawing filthy imagery instead of writing out her sentences. Furthermore, her step-dad inspected the backpack that she always carried to school and found erotic books and a shocking amount of filthy sex toys! You can bet that Jayda was going to be
bent over
right then and there for some serious punishment.
Getting spanked at school is absolutely embarrassing. Everyone can hear the swats being given in the hall and fellow classmates are able to get a view of the damage in gym class. Well, Jayda was going to have a very sore bottom to display because her backside was lit on fire as her step-dad spanked her bottom with his hard
hand
! She was wearing just a thong under her uniform and you can bet it was pulled down so she'd feel the full effect of a bare bottom spanking! Later, Jayda was given dozens of licks with a school strap, it was such a painful implement though incredibly effective when it came to keeping order in the classroom.
As Jayda felt her bottom throbbing immensely from the strap strokes, she was faced with having to endure a paddling! Teacher usually gave three to five swats for infractions, but Jayda would end up having to take an increased amount of swats since it was her step-dad delivering the discipline. That board sizzled Jayda's bottom and caused the girl to cry out in anguish! Her step-dad was going to make sure that the lesson was driven home no matter how much she howled in the classroom that day. And to add a little humiliation to the punishment, Jayda would be instructed to put her mouth around one of the sex toys and suck it while her step-dad spanked her with his
hand
and the school strap! Let's hope that Jayda's spanking at school would set her on the right path or she'd be bent right back over for more family discipline.